Description
Climb into the cockpit of what many say is the best aerobatic aeroplane of all time and feel the thrill of performing some truly amazing airborne manoeuvres for yourself!
The Pitts Special is one of the most famous aerobatic biplanes in history and has long been a favourite of World Champions. This lovely aircraft never ceases to be a crowd-pleaser at airshows worldwide. On this experience you will be flown by an aerobatics specialist with experience in aerobatic competitions and displays in the UK and beyond.
We are offering a choice of either a 20 or 30-minute flight in this brilliant little aeroplane and both experiences start on the ground with a safety briefing. Then it's into the cockpit for takeoff and into the skies you soar, ready to perform some of the major manoeuvres that make aerobatics in the Pitts Special so loved.
If you're up for it, your skilled pilot leader will give it their all, showing you just what the Pitts is capable of from loop-the-loops to stall turns, wingovers and Cuban Eights.
Throughout your time in the air, you'll be given a full commentary to explain all the technical aspects of each manoeuvre, as well as demonstrating some of the main features and abilities of the aircraft itself. The Pitts Special boasts awesome aerobatic capabilities and its impressive power to weight ratio and ability to pull face-changing G forces will give you the most exciting ride of your life!
Height Restrictions: minimum 4ft 8ins, maximum height is 6ft 5ins• Maximum weight 14 stone• Minimum age is 14 years• Under 18s must be accompanied on site by an adult•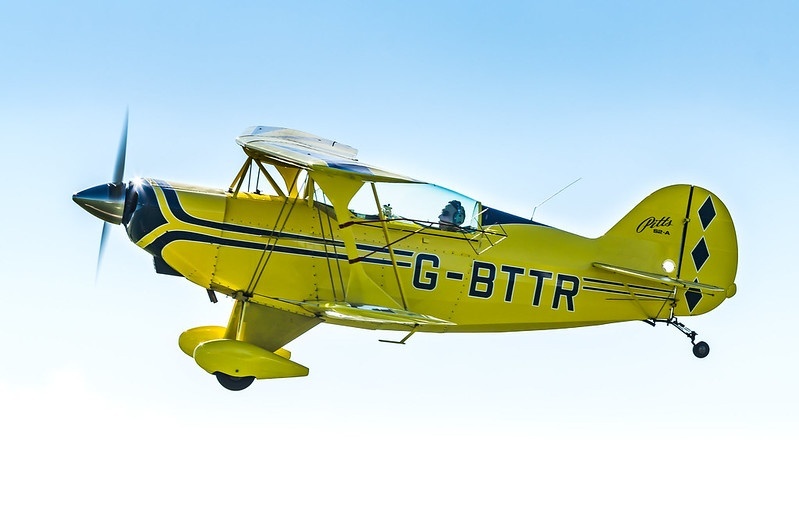 You must be physically fit and in good health• If you have any health concerns you should contact your GP before taking part in this activity.
Please see our full Terms and Conditions for information regarding bookings, refunds and cancellations.